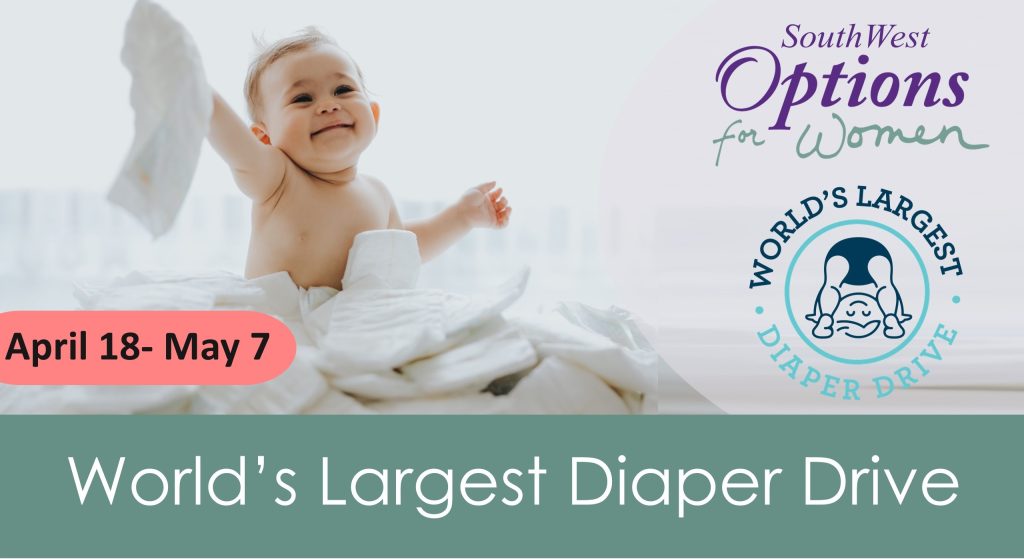 FAMILIES NEED YOUR HELP
Be a Part of History
Drop off Locations will be taking donations
April 18 – May 7, 2023
DIAPER DRIVE EVENT
Every single day in our community tens of thousands of mothers have to use (and re-use) diapers because they can't afford to purchase enough diapers to keep their children clean, dry, and healthy. It's a sad fact that one in three families needs help to diaper their babies.
SouthWest Options for Women and organizations from across Minnesota and Ohio have joined together to do something about that by collecting 2 million diapers in one week to help those most in need.
Join us as we set out on a historic journey to make life a little easier for moms and their babies in our local communities.
---
SouthWest Options will have FOUR drop sites in the SouthWest Metro
---
Running low on time but want to help? Let us purchase diapers on your behalf! Donate Here
Why Diapers Matter:
1 in 3 families struggles to provide clean, dry diapers for their children.
A baby will use around 7,000 diapers before being potty trained.
When a mother can't afford diapers, she will leave wet or dirty diapers on too long or scrape out the diaper and re-use it.
Diapers can cost $70-$80 per month as cost that is not an option for most low-income families.
Most Needed Sizes: